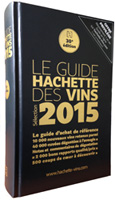 As with every new edition, the Guide Hachette presents the latest vintage bottled. Wine is not an industrial product, each new vintage has its own characteristics and must be tasted.
For this year 2015, the Clos du Roy « Cuvée Arthur » 2011 was selected by the professional jury which awarded him a star.
Cuvée Arthur, from a selection of grapes from our best parcels, represents the flagship of our production.